COVID-19 and Cardiac Concerns for Psychiatric Patients
---
COVID-19 and Cardiac Concerns for Psychiatric Patients
The coronavirus disease 2019 (COVID-19) pandemic is an international public health emergency.1 This fast-spreading contiguous disease has caused worldwide anxiety, fear, and distress. Adverse clinical outcomes are significant; misinformation and political issues add to suboptimal infection control.2 Distress about COVID-19 infectivity creates major psychological problems and socioeconomic dysfunction.3 People who were already emotionally vulnerable are most affected.
Severe acute respiratory syndrome coronavirus 2 infection sometimes induces cardiac complications, and heart disease can significantly worsen clinical outcomes in those with COVID-19.4,5 Cardiac injury might occur even without symptoms or signs of pneumonia. The pathophysiologic mechanisms could involve angiotensin-converting enzyme 2 receptors, the imbalanced response between T-helper cells, and a cytokine cascade of interferon-mediated immunopathological events. Atrial fibrillation is sometimes triggered by COVID-19-related hypoxia, with residual complications that persist after a patient's initial pulmonary recovery.4,5
Cardiac impairments might also be associated with pharmacotherapies. Some COVID-19 treatment medications can prolong the electrocardiographic QT interval and are proarrhythmic.6 Chloroquine and hydroxychloroquine are accumulated in lysosomes and inhibit phospholipase activity, induce cytoplasmic inclusion body formation, increase lysosomal pH, and cause protein inactivity; drug-induced atrial and ventricular arrhythmias are also documented.7 The most usual electrocardiographic alteration seen with chloroquine and hydroxychloroquine is a fascicular block, which may precipitate an atrioventricular block with syncope.
Depressed individuals are often more at risk for cardiac arrhythmias, including ventricular ectopy and ventricular fibrillation.8 Many antidepressant medications often prolong the QT interval, worsen conduction delays, or precipitate arrhythmias like torsades de pointes. These cardiac abnormalities might occur especially in persons prescribed medications that prolong the QT interval (Table 1).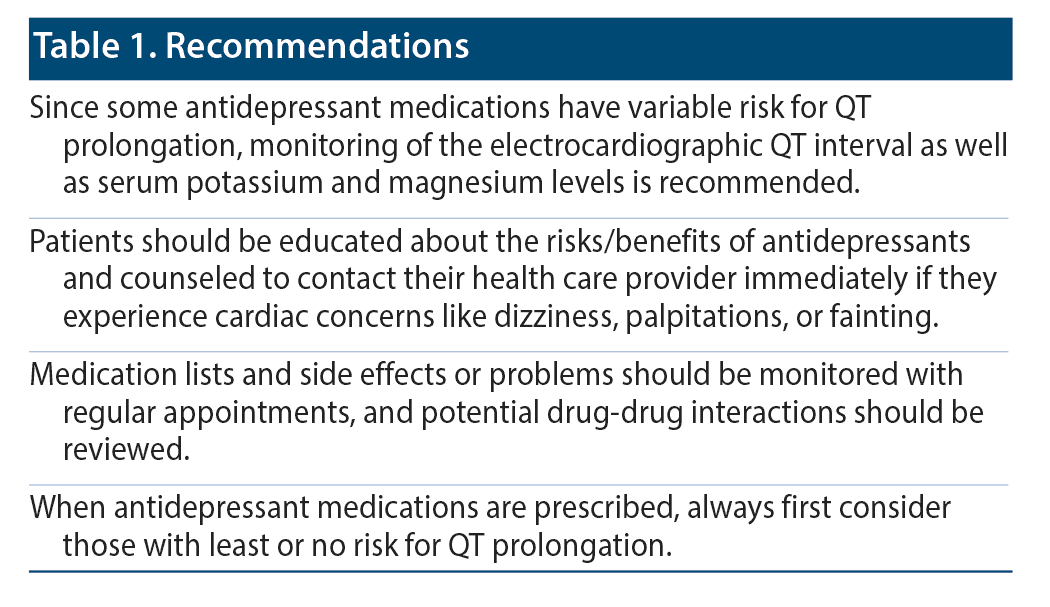 Click figure to enlarge
Some pharmaceuticals have desirable cardiovascular effects, including those that induce diminished platelet reactivity, improve heart rhythm stability, and positively influence lipid profiles. Such drugs may be a good choice for management of patients infected by COVID-19.8
Received: September 2, 2020.
Published online: December 3, 2020.
Potential conflicts of interest: None.
Funding/support: None.
REFERENCES
1.Lai CC, Shih TP, Ko WC, et al. Severe acute respiratory syndrome coronavirus 2 (SARS-CoV-2) and coronavirus disease-2019 (COVID-19): the epidemic and the challenges. Int J Antimicrob Agents. 2020;55(3):105924. Accessed September 26, 2020. PubMed CrossRef
2.Kluge HH. Statement—physical and mental health key to resilience during COVID-19 pandemic. World Health Organization, Regional Office for Europe website. https://www.euro.who.int/en/health-topics/health-emergencies/coronavirus-covid-19/statements/statement-physical-and-mental-health-key-to-resilience-during-covid-19-pandemic. March 26, 2020. Accessed November 12, 2020.
3.Depoux A, Martin S, Karafillakis E, et al. The pandemic of social media panic travels faster than the COVID-19 outbreak. J Travel Med. 2020;27(3):1-2. PubMed CrossRef
4.Zheng YY, Ma YT, Zhang JY, et al. COVID-19 and the cardiovascular system. Nat Rev Cardiol. 2020;17(5):259-260. PubMed CrossRef
5.Bansal M. Cardiovascular disease and COVID-19. Diabetes Metab Syndr. 2020;14(3):247-250. PubMed CrossRef
6.Kochi AN, Tagliari AP, Forleo GB, et al. Cardiac and arrhythmic complications in patients with COVID-19. J Cardiovasc Electrophysiol. 2020;31(5):1003-1008. PubMed CrossRef
7.Ratliff NB, Estes ML, McMahon JT, et al. Chloroquine-induced cardiomyopathy. Arch Pathol Lab Med. 1988;112(6):578. PubMed
8.Alvarez W Jr, Pickworth KK. Safety of antidepressant drugs in the patient with cardiac disease: a review of the literature. Pharmacotherapy. 2003;23(6):754-771. PubMed CrossRef
aDepartment of Cardiology, University of Louisville School of Medicine, Louisville, Kentucky
bDepartment of Psychiatry, University of Louisville School of Medicine, Louisville, Kentucky
*Corresponding author: Steven Lippmann, MD, 401 East Chestnut St, Unit 610, Louisville, KY 40202 (steven.lippmann@louisville.edu).
Prim Care Companion CNS Disord 2020;22(6):20com02809
To cite: Alkasir A, Lippmann S. COVID-19 and cardiac concerns for psychiatric patients. Prim Care Companion CNS Disord. 2020;22(6):20com02809.
To share: https://doi.org/10.4088/PCC.20com02809
© Copyright 2020 Physicians Postgraduate Press, Inc.
Prim Care Companion CNS Disord 2020;22(6):20com02809
Related Articles
Volume: 22
Quick Links: Covid-19
Continue Reading…