Tapentadol Dependence: A Case Series
This work may not be copied, distributed, displayed, published, reproduced, transmitted, modified, posted, sold, licensed, or used for commercial purposes. By downloading this file, you are agreeing to the publisher's Terms & Conditions.
Tapentadol Dependence:
A Case Series
Tapentadol is a µ-opioid receptor agonist and norepinephrine reuptake inhibitor. The abuse potential of tapentadol is less compared to several opioids including oxycodone and buprenorphine,1,2 while it is suggested to be similar to tramadol.3 Previously, 2 cases of tapentadol dependence were reported in India.4 In this case series, we present 3 patients who initiated tapentadol for different reasons but developed dependence on this medication.
Case Series
Case 1. A 20-year-old man presented to our center with tapentadol use for 8 months. He tried various substances (Table 1) after reading about their effects on the Internet between the ages of 16 and 19 years. At age 19 years, he tried codeine, liked its euphoric effects, and restricted substance use to opioids only. He developed craving, tolerance, and withdrawals within 3 months. He searched the Internet about replacement of codeine and switched to tapentadol completely, finding it to be more potent and experiencing euphoria along with visual effects (different colors in normal visual field). He developed craving and tolerance to tapentadol within 1 month and increased the dose from 50 mg to 400 mg daily. He experienced rhinorrhea, lacrimation, anxiety, palpitations, and diarrhea if he did not take tapentadol. He was detoxified using ibuprofen and diazepam.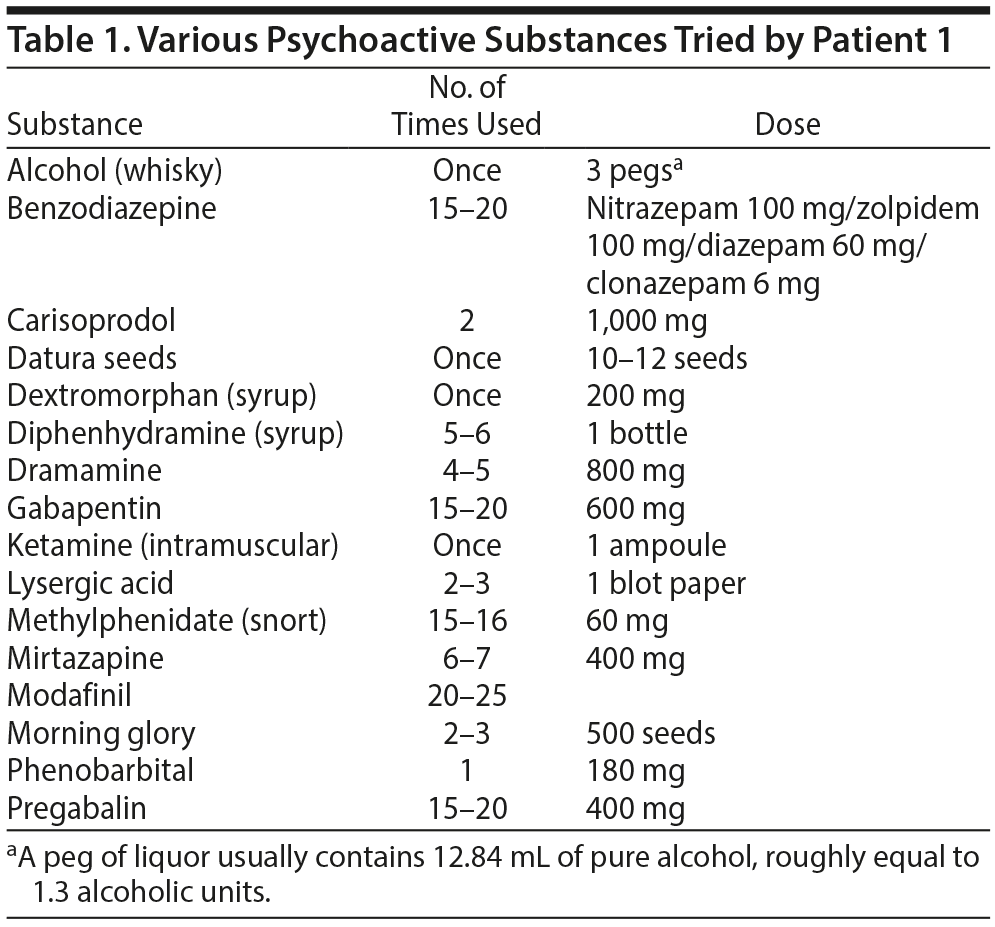 Click figure to enlarge
Case 2. A 34-year-old man presented to our center with tapentadol use for 4 years. As shown in Figure 1, the patient had nicotine dependence since 21 years of age and developed alcohol dependence by age 30 years. He tried tapentadol 100 mg to quit alcohol and felt euphoria, perception of time moving fast, and increased hypnagogic hallucinations. He developed craving and tolerance within 2 months and increased the dose to 6,000 mg within 2 years. He resumed occasional alcohol use to enhance tapentadol's effects. When taking cannabis with tapentadol, he felt intense dysphoria, anxiety, and restlessness. When he did not take tapentadol, he experienced low mood, fatigue, decreased self-confidence, ideas of helplessness and worthlessness, and pessimistic views of the future. He underwent inpatient detoxification at a private deaddiction center but relapsed within 1 month. Once, he was placed on buprenorphine maintenance, but he took a lesser amount than prescribed. He relapsed again and completely stopped buprenorphine within 2 months.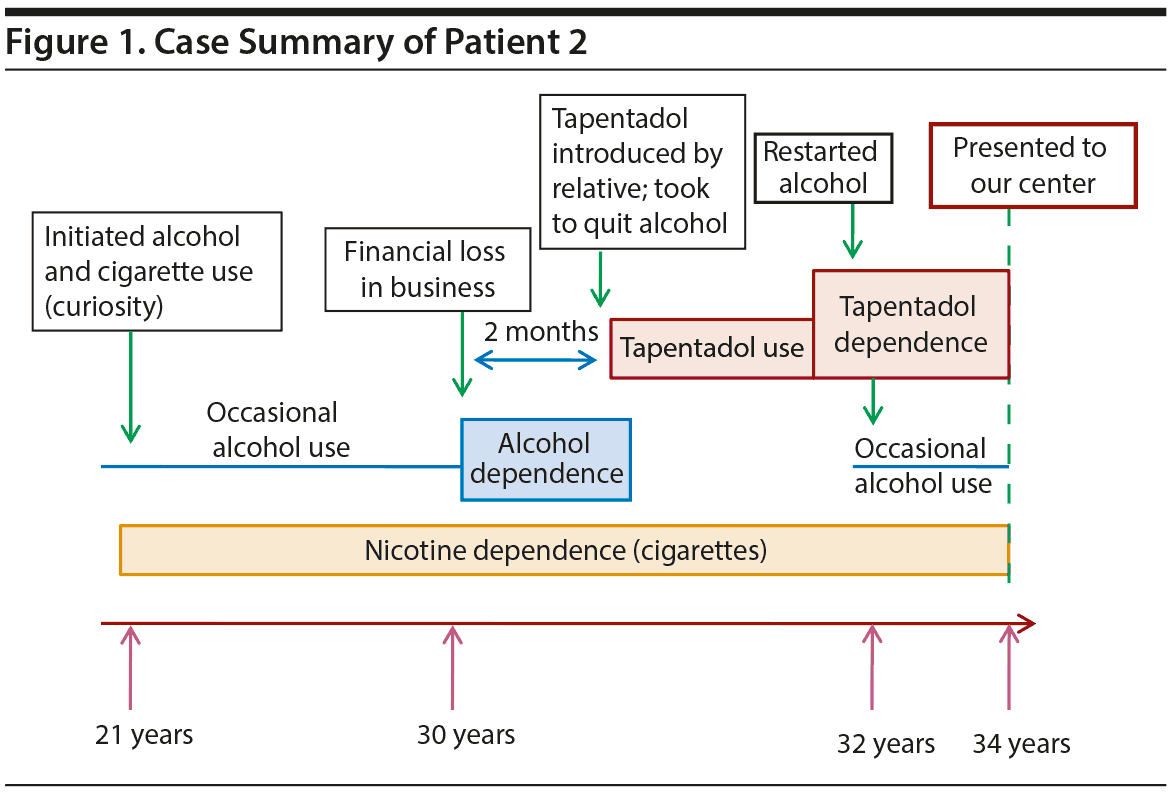 Click figure to enlarge
Case 3. A 30-year-old man started taking tapentadol 50 mg for abdominal pain following a doctor's prescription 3 years before presentation. When taking tapentadol, he reported feeling not only pain relief but also a sense of relaxation of the mind. He developed craving and tolerance within 6 months and increased the dose to 500 mg daily. He also experienced decreased libido and erectile dysfunction on tapentadol. Within 7 months, he experienced withdrawals in the form of anhedonia, fatigue, body ache, insomnia, decreased self-confidence, and pessimistic views of the future. After around 1 year, he began treatment at a private deaddiction center but relapsed within 1 month. After presenting to our center, tapentadol was tapered gradually on an outpatient basis.
Discussion
As can be seen from our case series of 3 patients, tapentadol can lead to dependence and has abuse potential. The 3 cases illustrate that dependence developed among patients who initiated it for different reasons, with the amount of tapentadol use varying from 400 mg to 6,000 mg. Although there have been case reports on clinical presentation of tapentadol overdose, including reports of death due to cardiac arrest,5-7 there is limited literature on tapentadol dependence.4 The unique clinical features that we found were prominent depressive symptoms during tapentadol withdrawal and perceptual abnormalities during tapentadol intake. Tapentadol has been associated with a high risk of perceptual abnormalities in previous literature.8
Tapentadol has been approved for pain management and is considered to have lower abuse potential than other opioids.9,10 A study11 evaluating Internet discussion of recreational drug users also found the endorsement ratio of tapentadol to be significantly lower than oxymorphone and close to that of tramadol. This finding suggests that experimenters are less likely to be dependent on tapentadol. However, development of dependence can occur with tapentadol, as seen in our patients. Hence, clinicians need to be cautious and monitor diversion and abuse of tapentadol in their patients. Also, tapentadol-related emergency visits and use of tapentadol for recreational purposes should be carefully watched within an international framework of cooperation, monitoring, and control.
Published online: October 31, 2019.
Potential conflicts of interest: None.
Funding/support: None.
Previous presentation: Presented at the 71st Annual National Conference of the Indian Psychiatric Society; February 2, 2019; Lucknow, India.
Patient consent: Informed consent was received from all patients to publish the case reports, and information has been de-identified to protect anonymity.
REFERENCES
1.Cepeda MS, Fife D, Kihm MA, et al. Comparison of the risks of shopping behavior and opioid abuse between tapentadol and oxycodone and association of shopping behavior and opioid abuse. Clin J Pain. 2014;30(12):1051-1056. PubMed CrossRef
2.Butler SF, McNaughton EC, Black RA. Tapentadol abuse potential: a postmarketing evaluation using a sample of individuals evaluated for substance abuse treatment. Pain Med. 2015;16(1):119-130. PubMed CrossRef
3.Dart RC, Cicero TJ, Surratt HL, et al. Assessment of the abuse of tapentadol immediate release: the first 24 months. J Opioid Manag. 2012;8(6):395-402. PubMed CrossRef
4.Basu A, Mahadevan J, Ithal D, et al. Is tapentadol a potential Trojan horse in the postdextropropoxyphene era in India? Indian J Pharmacol. 2018;50(1):44-46. PubMed CrossRef
5.Cantrell FL, Mallett P, Aldridge L, et al. A tapentadol related fatality: case report with postmortem concentrations. Forensic Sci Int. 2016;266:e1-e3. PubMed CrossRef
6.Khaja M, Lominadze G, Millerman K. Cardiac arrest following drug abuse with intravenous tapentadol: case report and literature review. Am J Case Rep. 2017;18:817-821. PubMed CrossRef
7.Kemp W, Schlueter S, Smalley E. Death due to apparent intravenous injection of tapentadol. J Forensic Sci. 2013;58(1):288-291. PubMed CrossRef
8.Tsutaoka BT, Ho RY, Fung SM, et al. Comparative toxicity of tapentadol and tramadol utilizing data reported to the national poison data system. Ann Pharmacother. 2015;49(12):1311-1316. PubMed CrossRef
9.Buynak R, Rappaport SA, Rod K, et al. Long-term safety and efficacy of tapentadol extended release following up to 2 years of treatment in patients with moderate to severe, chronic pain: results of an open-label extension trial. Clin Ther. 2015;37(11):2420-2438. PubMed CrossRef
10.Pergolizzi JV Jr, Taylor R Jr, LeQuang JA, et al. Tapentadol extended release in the treatment of severe chronic low back pain and osteoarthritis pain. Pain Ther. 2018;7(1):37-57. PubMed CrossRef
11.McNaughton EC, Black RA, Weber SE, et al. Assessing abuse potential of new analgesic medications following market release: an evaluation of Internet discussion of tapentadol abuse. Pain Med. 2015;16(1):131-140. PubMed CrossRef
aDepartment of Psychiatry & National Drug Dependence Treatment Centre, All India Institute of Medical Sciences, New Delhi, India
*Corresponding author: Preethy Kathiresan, MD, Department of Psychiatry & National Drug Dependence Treatment Centre, All India Institute of Medical Sciences, Room no. 4096, Psychiatry Office, New Delhi, India 110029 (princyaiims@gmail.com).
Prim Care Companion CNS Disord 2019;21(5):19l02444
To cite: Kathiresan P, Pakhre A, Kattula D, et al. Tapentadol dependence: a case series. Prim Care Companion CNS Disord. 2019;21(5):19l02444.
To share: https://doi.org/10.4088/PCC.19l02444
© Copyright 2019 Physicians Postgraduate Press, Inc.
Related Articles
Volume: 21
Quick Links: Addiction , Substance Use Disorders
$

40.00
Buy this Article as a PDF