This work may not be copied, distributed, displayed, published, reproduced, transmitted, modified, posted, sold, licensed, or used for commercial purposes. By downloading this file, you are agreeing to the publisher's Terms & Conditions.
Case Report
A Case of Nonmalignant Delirious Mania Successfully Treated With Lorazepam and Carbamazepine: A Proposed Diagnostic and Treatment Algorithm

---
Prim Care Companion CNS Disord 2021;23(3):20l02764
To cite: Spiegel DR, Barger A, Monter E. A case of non-malignant delirious mania successfully treated with lorazepam and carbamazepine: a proposed diagnostic and treatment algorithm. Prim Care Companion CNS Disord. 2021;23(3):20l02764.
To share: https://doi.org/10.4088/PCC.20l02764
© Copyright 2021 Physicians Postgraduate Press, Inc.
aDepartment of Psychiatry and Behavioral Sciences, Eastern Virginia Medical School, Norfolk, Virginia
*Corresponding author: David R. Spiegel, MD, Department of Psychiatry and Behavior Sciences, Eastern Virginia Medical School, 825 Fairfax Ave, Norfolk, VA 23507 (spiegedr@evms.edu).
Delirious mania is a severe but underrecognized neuropsychiatric syndrome characterized by the rapid onset of delirium, mania, and psychosis. Catatonia is often a prominent feature of the syndrome.1 Despite the diversity of nosology, including lethal catatonia, the delirious mania construct has been relatively consistent in description in clinical reports.2
We present a patient with a history of bipolar disorder type 1, whom not only had been euthymic for 20 years (until presenting to our hospital) but also had been doing so with no psychotropic medication. Her phenomenology at admission warranted a thorough medical evaluation, which uncovered metastatic ovarian cancer, but was ultimately determined to be most consistent with delirious mania.
Case Report
Our patient is a 64-year-old White woman with a history of bipolar disorder type 1; she had been euthymic for 20 years, reportedly with no maintenance medications. Five days prior to admission in November 2019, the patient was found "wandering the streets" and brought to our emergency department. Premorbid, the patient was reported as fully independent, including able to perform instrumental activities of daily living. Past medical history was remarkable for diabetes mellitus type 2, treated with metformin.
The patient was described as "hard to manage," and we were consulted on hospital day 2. During our initial evaluation, our patient's mood was elated with increased energy and grandiose delusions. Her Young Mania Rating Scale (YMRS)3 score was 31. She was also oriented í 1, with fluctuation of attention and awareness and a positive result on the Confusion Assessment Method.4 In addition, our patient manifested behavioral stereotypies, echolalia, verbigerations, grimacing, perseverations, and catalepsy but without autonomic instability. The patient's Bush-Francis Catatonia Rating Scale (BFCRS)5 score was 21. After the evaluation, we administered a lorazepam (1 mg) challenge, and her BFCRS score dropped to 7. On hospital day 3, we began carbamazepine titrated to 300 twice/day and lorazepam titrated up to 1.5 mg 4 times/day, both after 2 days. Her carbamazepine level at this time was 7 mcg/mL. She was started on olanzapine 2.5 mg twice/day, and based on US Food and Drug Administration prescribing information stating, "concomitant administration of intramuscular olanzapine along with benzodiazepines is not recommended due to the potential for excessive sedation and cardiorespiratory depression,"6,7 lorazepam was discontinued.
The patient's symptoms of delirium, mania/psychosis, and catatonia decreased, and on hospital day 10, her YMRS score was 8, BFCRS was 6, CAM result was negative, and Mini-Mental State Examination8 score was 27. Unfortunately, due to metastatic disease, at discharge (hospital day 12), the patient was placed in hospice and died 2 months later.
Discussion
Our patient demonstrated many of the symptoms of delirious mania, a syndrome of acute-onset elated mood, increase in goal-directed energy, grandiosity, emotional lability, delusions and inattention, unawareness, and fluctuation of symptoms (DSM-5 criteria for mania and delirium, respectively). Delirious mania has been accepted to have no identifiable medical cause. Some, but not all authors, have found catatonic signs and symptoms in patients with delirious mania.9,10 Bipolar disorder is the common diagnosis of record in patients with delirious mania, since the latter has no formal classification.2 Figure 1 provides a proposed diagnostic and treatment algorithm for delirious mania and a review of our patient's course.1,9–12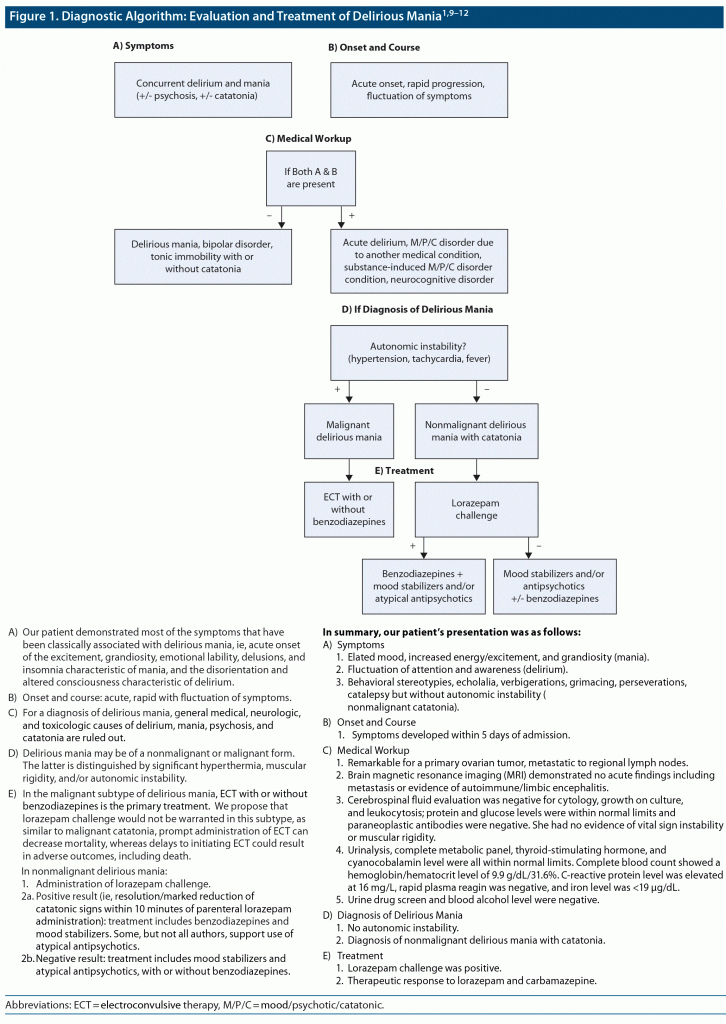 In addition to psychosis, and as in our patient, catatonia is an additional common neuropsychiatric complication of delirious mania that has important prognostic and treatment implications. Figure 1 also provides an overview of malignant versus nonmalignant delirious mania and treatment differences. Curiously, the co-occurrence of catatonic symptoms in delirious mania suggests similar treatment responses between the 2 syndromes. Thus, benzodiazepines/electroconvulsive therapy play a positive role and mood stabilizers provide overall benefit regardless of the subtype of delirious mania.10 Our patient's symptoms were consistent with nonmalignant delirious mania and were successfully treated with a combination of lorazepam and carbamazepine.
In conclusion, delirious mania is a potentially life-threatening but underrecognized neuropsychiatric syndrome. While only anecdotal-level evidence to base diagnostic and treatment recommendations exists, early recognition can significantly reduce morbidity and mortality.13
Published online: June 3, 2021.
Potential conflicts of interest: Dr Spiegel is in the speaker's bureaus of Allergen, Alkermes, Otsuka, and IntraCellular but has no conflict of interest in preparation of this manuscript. Drs Barger and Monter report no conflicts of interest related to the subject of this report.
Funding/support: None.
Patient consent: The patient provided verbal consent to publish the case report prior to her entering hospice care. Information has been de-identified to protect anonymity.
Volume: 23
Quick Links: Delirium , Neurologic and Neurocognitive
$

40.00
Buy this Article as a PDF