This work may not be copied, distributed, displayed, published, reproduced, transmitted, modified, posted, sold, licensed, or used for commercial purposes. By downloading this file, you are agreeing to the publisher's Terms & Conditions.
Case Report
Subthreshold Obsessive-Compulsive Symptoms in 3 Patients With Papillary Thyroid Carcinoma

Subthreshold Obsessive-Compulsive Symptoms in 3 Patients With Papillary Thyroid Carcinoma
Obsessive-compulsive disorder (OCD) is a disease with a prevalence of 0.5%-2.3% according to DSM-III-R and DSM-IV criteria.1 Obsessive-compulsive symptoms that are milder, less time-consuming, and do not significantly affect functionality are defined as subthreshold obsessive-compulsive symptoms. The prevalence of subthreshold obsessive-compulsive symptoms was found to be 1.6%-6.4% in various studies.2,3
Although there are many assumptions about the etiopathogenesis of OCD, there is no consensus. However, due to advances in biochemical and imaging methods, biological explanations have attracted attention.4,5 However, some physical diseases and psychiatric disorders may include common clinical, neurobiological, genetic, and environmental factors that are predisposed.6 More frequent observation of some physical diseases in OCD patients may support these neurobiological explanations.7,8
Thyroid gland diseases are associated with OCD.9,10 This relationship between thyroid diseases and OCD was first discussed in terms of changes in thyroid hormones,11 but changes in the immune system and inflammatory response were later added.12–14 Papillary thyroid carcinoma (PTC), a disease of the thyroid gland, is the most common malignancy in the thyroid follicular epithelium.15 Although lymphatic spread to the cervical nodes can happen, the majority of patients with these tumors have an excellent long-term prognosis if properly treated.16 This case series includes 3 patients diagnosed with PTC who also had subthreshold obsessive-compulsive symptoms. In these cases, the obsessive and compulsive symptoms were evaluated with the Yale-Brown Obsessive-Compulsive Scale (YBOCS).17 The YBOCS is a 10-item rating scale that uses a semistructured interview approach to assess the severity of obsessions and compulsions; it is the gold standard for evaluating OCD symptoms in clinical research. The cutoff point for the total score is 16.17
Case Report 1
Ms A is a 22-year-old female university student, and her complaints began 4 years ago with tension and restlessness. Over time, her complaints were joined by the concern that "something bad will happen to my relatives." When she had to use stairs, she was worried that something terrible could happen if she walked up the stairs. She also repeatedly checked the doors, windows, and furnaces. These compulsive behaviors lasted 1 hour per day; however, disturbing thoughts could last a few hours longer. These complaints did not create a significant disruption in her daily life and did not attract the attention of her social environment but were relatively uncomfortable.
The patient had previously been admitted to the outpatient psychiatric clinic, but the patient's symptoms did not fully meet the criteria for a diagnosis of OCD. No treatment was recommended, and an informational interview was conducted. The interview involved brief psychoeducation for OCD, was performed in 1 session, and included cognitive behavioral recommendations and the following questions: What are the obsessions and compulsions? When are they considered pathological? What can be done to deal with obsessions?
These complaints fluctuated for about 2 years and increased when Ms A was stressed. Although she had been better for the 6 months, she felt the need to readmit herself to the clinic when her complaints increased for 2 weeks.
A psychiatric examination revealed suspicion obsessions in her thought content, no psychotic symptoms, and a euthymic mood. However, her affect was observed to be anxious. She scored 5 points on the YBOCS obsession subscale and 5 points on the YBOCS compulsion subscale.
In terms of medical history, she had a total thyroidectomy for PTC about 1 year ago. She has no family history of psychiatric disease. Pharmacotherapy was not recommended for this patient, and follow-ups at 3-month intervals were recommended.
Case Report 2
Ms B is a 26-year-old female college graduate. At the insistence of her family, she was admitted to the outpatient clinic with suspicion about whether she was doing her work correctly. According to these suspicions, she had been constantly rechecking her finished work. She also stated that she had difficulty making decisions, felt obliged to do various tasks in a certain order, and felt so overwhelmed when she did not follow a certain order that she had to start again. If Ms B did not begin in a certain order, she found it difficult to continue and would postpone the work. These complaints had increased in the past year but followed a fluctuating course. She did not report a significant strain in her professional or private life due to these complaints, and she had never had a psychiatric consultation before.
A psychiatric examination revealed suspicion and order obsessions, no psychotic symptoms, a mildly depressed mood, and a markedly anxious affect. During the examination, Ms B answered questions after long pauses to think. She scored 7 points on the YBOCS obsession subscale and 7 points on the YBOCS compulsion subscale.
In terms of medical history, Ms B reported that she had undergone total thyroidectomy for PTC about 2 months prior and had received radioactive iodine therapy. She has no family history of psychiatric disease. Pharmacotherapy was not recommended for this patient, and follow-ups at 3-month intervals were recommended.
Case Report 3
Mr C is a 50-year-old male high school graduate. He was referred for psychiatric examination by an endocrinologist. His serious thoughts about completing things always kept his mind busy. In addition, he was constantly rechecking his belongings, the accounts at his workplace, and whether he had put his cigarette out. These complaints have lasted for 20 years and have caused difficulties from time to time in his daily life, but they have never prevented him from doing his work. He has needed no treatment until now and has received no feedback from close relatives or friends.
A psychiatric examination revealed suspicion and order obsessions, no psychotic symptoms, and a euthymic mood. His affect was observed to be anxious. The YBOCS obsession subscale score was 5 points, and the YBOCS compulsion subscale score was 7 points.
Mr C has been using T4 medication for the last 2 years to treat hypothyroidism, which had caused hypertension, joint pain, fatigue, and weight gain. He benefited from this treatment, and these physical complaints were reduced. However, 1 week ago, a suspected nodule was detected in a thyroid ultrasonography. A fine-needle aspiration biopsy was performed on the thyroid tissue and revealed a "multinodular goiter based on chronic thyroiditis" along with PTC. His screening test results were as follows: thyroid-stimulating hormone (TSH) = 5.56 mIU/L, free T3 = 3.24 ng/dL, free T4 = 1.52 ng/dL, anti-thyroid peroxidase antibodies (Anti-TPO) = 217.1 IU/mL, anti-thyroglobulin antibodies (Anti-TG) = 1,641 IU/mL, and calcitonin < 2 ng/L. A decision was made to reevaluate this patient after treatment for PTC (probably thyroidectomy).
The immune system plays an essential role in the etiopathogenesis of OCD. This relationship attracted attention when children developed OCD symptoms after group A β-hemolytic streptococcal infections, which involved a cross-reaction between streptococcal antibodies and basal ganglia.18-20 Another critical factor in the development of OCD is the inflammatory response. The cortico-striato-thalamo-cortical pathway, which is thought to be responsible for the etiopathogenesis of OCD, has shown increased inflammation in OCD patients compared to healthy controls. Furthermore, the levels of inflammation were correlated with the difficulty associated with resistance to compulsions.21
Many diseases affect the immune and inflammatory response, and some have been shown to be accompanied by OCD symptoms.22 Thyroid diseases may be associated with both immune/inflammatory response and OCD symptoms. Obsessive-compulsive symptoms in thyroid diseases are observed 1.4 times more than in the general population.7 Although there are different results regarding the relationship between OCD symptoms and thyroid diseases, it has been shown that OCD symptoms are high in both autoimmune thyroiditis and nonautoimmune thyroid diseases.10,23 Thyroid hormone changes and immune/inflammatory changes in thyroid diseases may be associated with obsessive-compulsive symptoms.11,24 In a study25 of the relationship between OCD and cancer, it was demonstrated that some types of cancer are more common in OCD patients than in the general population. This study suggests that the relationship between OCD and cancer may be explained secondary to a paraneoplastic syndrome and also may be due to surveillance bias. Thyroid carcinomas also can be affected by inflammation such as other types of cancer, by cytokines and chemokines, or by modulating inflammation.26,27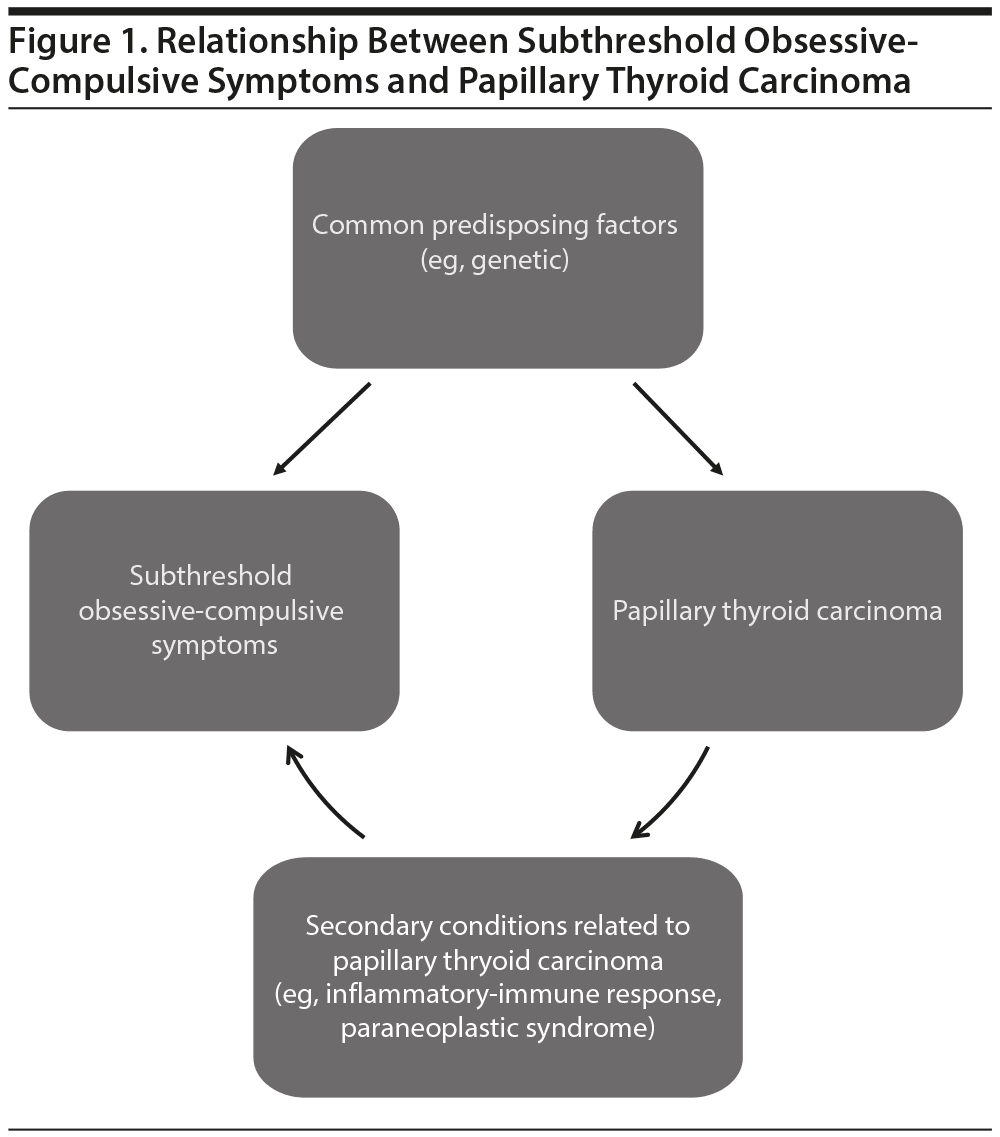 Click figure to enlarge
In our 3 cases, suspicion obsessions and control compulsions dominate the presentations. Systemic inflammation due to various reasons (including papillary thyroid carcinoma) has been shown to lead to changes in glucose utilization in the insula, which is a risk-processing center and is thought to play a role in suspected obsessions.28,29
The relationship between subthreshold obsessive-compulsive symptoms and PTC can be explained by either common pathogenesis (eg, genetic) or possible systemic-neurobiological changes (such as inflammation or paraneoplastic syndrome) secondary to PTC (Figure 1). Extensive research on the relationship between malignant diseases of the thyroid and subthreshold obsessive-compulsive symptoms will shed light on the validity of these observations. If such studies support the relationship between obsessive-compulsive symptoms and PTC, it may be recommended that patients with obsessive-compulsive symptoms be monitored for PTC or patients with PTC be screened for obsessive-compulsive symptoms.
Published online: January 23, 2020.
Potential conflicts of interest: None.
Funding/support: None.
Patient consent: Consent was obtained from each patient to publish the case reports, and information has been de-identified to protect anonymity.
REFERENCES
1.de Bruijn C, Beun S, de Graaf R, et al. Subthreshold symptoms and obsessive-compulsive disorder: evaluating the diagnostic threshold. Psychol Med. 2010;40(6):989-997. PubMed CrossRef
2.Angst J, Gamma A, Endrass J, et al. Obsessive-compulsive severity spectrum in the community: prevalence, comorbidity, and course. Eur Arch Psychiatry Clin Neurosci. 2004;254(3):156-164. PubMed CrossRef
3.Grabe HJ, Meyer C, Hapke U, et al. Prevalence, quality of life and psychosocial function in obsessive-compulsive disorder and subclinical obsessive-compulsive disorder in northern Germany. Eur Arch Psychiatry Clin Neurosci. 2000;250(5):262-268. PubMed CrossRef
4.Greisberg S, McKay D. Neuropsychology of obsessive-compulsive disorder: a review and treatment implications. Clin Psychol Rev. 2003;23(1):95-117. PubMed CrossRef
5.Karslıoğlu EH, Yüksel N. Obsesif kompulsif bozukluğun nörobiyolojisi. Klinik Psikiyatri. 2007;10(3):3-13.
6.Mansur RB, Brietzke E, McIntyre RS. Is there a "metabolic-mood syndrome"? a review of the relationship between obesity and mood disorders. Neurosci Biobehav Rev. 2015;52:89-104. PubMed CrossRef
7.Witthauer C, T Gloster A, Meyer AH, et al. Physical diseases among persons with obsessive compulsive symptoms and disorder: a general population study. Soc Psychiatry Psychiatr Epidemiol. 2014;49(12):2013-2022. PubMed CrossRef
8.Pallanti S, Grassi G, Sarrecchia ED, et al. Obsessive-compulsive disorder comorbidity: clinical assessment and therapeutic implications. Front Psychiatry. 2011;2:70. PubMed CrossRef
9.Hantouche E, Piketty ML, Poirier MF, et al. Obsessive-compulsive disorder and the study of thyroid function [in French]. Encephale. 1991;17(5):493-496. PubMed
10.Placidi GP, Boldrini M, Patronelli A, et al. Prevalence of psychiatric disorders in thyroid diseased patients. Neuropsychobiology. 1998;38(4):222-225. PubMed CrossRef
11.McCracken JT, Hanna GL. Elevated thyroid indices in children and adolescents with obsessive-compulsive disorder: effects of clomipramine treatment. J Child Adolesc Psychopharmacol. 2005;15(4):581-587. PubMed CrossRef
12.Arnold PD, Richter MA. Is obsessive-compulsive disorder an autoimmune disease? CMAJ. 2001;165(10):1353-1358. PubMed
13.Gray SM, Bloch MH. Systematic review of proinflammatory cytokines in obsessive-compulsive disorder. Curr Psychiatry Rep. 2012;14(3):220-228. PubMed CrossRef
14.Khan FA, Al-Jameil N, Khan MF, et al. Thyroid dysfunction: an autoimmune aspect. Int J Clin Exp Med. 2015;8(5):6677-6681. PubMed
15.Cheung CC, Carydis B, Ezzat S, et al. Analysis of ret/PTC gene rearrangements refines the fine needle aspiration diagnosis of thyroid cancer. J Clin Endocrinol Metab. 2001;86(5):2187-2190. PubMed CrossRef
16. Livolsi VA. Surgical Pathology of the Thyroid. Philadelphia, PA: WB Saunders Company;1990.
17.Clark DA, Beck AT. Cognitive Therapy of Anxiety Disorders: Science and Practice. New York, NY: Guilford Publications;2011.
18.Swedo SE, Rapoport JL, Cheslow DL, et al. High prevalence of obsessive-compulsive symptoms in patients with Sydenham's chorea. Am J Psychiatry. 1989;146(2):246-249. PubMed CrossRef
19.Swedo SE, Leonard HL, Kiessling LS. Speculations on antineuronal antibody-mediated neuropsychiatric disorders of childhood. Pediatrics. 1994;93(2):323-326. PubMed
20.Swedo SE, Leonard HL, Mittleman BB, et al. Identification of children with pediatric autoimmune neuropsychiatric disorders associated with streptococcal infections by a marker associated with rheumatic fever. Am J Psychiatry. 1997;154(1):110-112. PubMed CrossRef
21.Attwells S, Setiawan E, Wilson AA, et al. Inflammation in the neurocircuitry of obsessive-compulsive disorder. JAMA Psychiatry. 2017;74(8):833-840. PubMed CrossRef
22.Pérez-Vigil A, Fernández de la Cruz L, Brander G, et al. The link between autoimmune diseases and obsessive-compulsive and tic disorders: a systematic review. Neurosci Biobehav Rev. 2016;71:542-562. PubMed CrossRef
23.Giynas Ayhan M, Uguz F, Askin R, et al. The prevalence of depression and anxiety disorders in patients with euthyroid Hashimoto's thyroiditis: a comparative study. Gen Hosp Psychiatry. 2014;36(1):95-98. PubMed CrossRef
24.Mermi O, Atmaca M. Thyroid gland functions are affected in obsessive-compulsive disorder. Anatolian J Psych. 2016;17(2):99-103. CrossRef
25.Shen CC, Hu LY, Hu YW, et al. The Risk of Cancer in Patients With Obsessive-Compulsive Disorder: A Nationwide Population-Based Retrospective Cohort Study. Medicine (Baltimore). 2016;95(9):e2989. PubMed CrossRef
26.Guarino V, Castellone MD, Avilla E, et al. Thyroid cancer and inflammation. Mol Cell Endocrinol. 2010;321(1):94-102. PubMed CrossRef
27.Galdiero MR, Varricchi G, Marone G. The immune network in thyroid cancer. OncoImmunology. 2016;5(6):e1168556. PubMed CrossRef
28.Luigjes J, Figee M, Tobler PN, et al. Doubt in the insula: risk processing in obsessive-compulsive disorder. Front Hum Neurosci. 2016;10:283. PubMed CrossRef
29.Hannestad J, Subramanyam K, Dellagioia N, et al. Glucose metabolism in the insula and cingulate is affected by systemic inflammation in humans. J Nucl Med. 2012;53(4):601-607. PubMed CrossRef
aDepartment of Psychiatry, Ankara Yıldırım Beyazıt University Faculty of Medicine, Ankara, Turkey
bDepartment of Psychiatry, Murat State Hospital, Edirne, Turkey
cIndependent researcher, Ankara, Turkey
dRepublic of Turkey Ministry of Health, Ankara City Hospital, Psychiatry Department, Ankara, Turkey
*Corresponding author: Ali Çayköylü, Department of Psychiatry, Ankara Yildirim Beyazit University, Bilkent, Ankara, Turkey 06800 (acaykoylu@hotmail.com).
Prim Care Companion CNS Disord 2020;22(1):19l02463
To cite: Çayköylü A, Uğurlu GK, Yenilmez DO, et al. Subthreshold obsessive-compulsive symptoms in 3 patients with papillary thyroid carcinoma. Prim Care Companion CNS Disord. 2020;22(1):19l02463.
To share: https://doi.org/10.4088/PCC.19l02463
© Copyright 2020 Physicians Postgraduate Press, Inc.
Related Articles
Volume: 22
Quick Links: Obsessive-Compulsive and Related Disorders
$

40.00
Buy this Article as a PDF